ORA reservation software is perfect for activities center and any kind of organization which organizes trips, tour or visit on daily base.
View the demo activitiesbookingsystem.com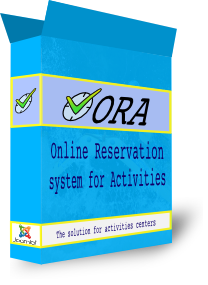 This software can accept online bookings coming from the web public.
A private area allow the managers to organize the activities and the bookings.
Available Supports:
Infinitive types of activities
Infinitive types of customer with different prices, age limits
Day organization with an infinitive number of activities for each day
Day money balance
Fully automatic reservation for customer online with credit card confirmation
Printing of reservations resumes and receives
Multi-languages support
Future Supports:
Functionality for registered users, travel agents and managers