Ultimi articoli dal mondo della canoa
Categoria: Varie

Ecco una breve guida per consigliarvi dove scoprire il fiume attraverso il rafting. Nel nord Italia sull'arco alpino ci sono i fiumi più belli, ma si può trovare anche qualcosa di speciale nel centro e sud Italia.
Categoria: Varie
River Map
River List
Total:241
Abatescu (Corsica)
American SF (California)
Angrogna (Italy)
Ara (Espana)
Aragon Subordan (Espana)
Argut (Russia) Big volume class IV (V) run in altai. 3 days
Asahan (Indonesia) Incredible volume run class IV (V,VI). This river is dam controlled and realease costantly 150 m3/s. I have done the second descent of the rapid "nightmere".
Asco (Corsica) class IV-V
Astico (Italy) Class V slides and little waterfalls.
Aurdola (Norway) Incredible run class V - VI with many slides
Austbygdalselvi (Norway) This river is a very nice run with class V sections and wonderful landscapes.
Ayasse (Italy)
Bagnone (Italy) class V creek into the appenins with a lot of waterfalls from 4 to 9m. The first part is a steep stair in a bad rock.
Bashkaus (Russia) Classic 2 days class V volume run in Altai
Beca (Protugal) Creek that is good with 50-100 m3 Class IV V
Benedito (Brasil) Steep and fun class IV - V creek
Biaysse (France) Very rocky and steep creek in alpin style. Class V
Bidente (Italy)
Boite (Italy) Nice alpin class IV run in the Dolomites
Boka (Slovenia) Tributary of the Soca, class V short run only available during heavy rains
Bovra (Norway) Simple Class IV run with a class VI in the middle
Brandseth (Norway) Wonderful class V creek full of slides
Brembo (Italy)
Brgenzer Ache (Austria)
Bujaruelo (Espana)
Cabreiro (Portugal) Class V run steep with a Triple drop into a gorge
Cabril (Portugal) Class IV run
Calisima (Corsica) Steep Bolder creek, good with high water, class V
Canale di Reno (Italy)
Candigliano (Italy)
Cannobino (Italy) Very nice class V run in the Lake Maggiore. Very steep gorge basically class IV with the last km class V and some portages.
Canyon creek (California)
Caprio (Italy)
Cavado (Portugal) Full on class V run with beautiful slides and waterfall up to 5 m.
Cellina upper (Italy) Classic alpin run only nice with high flows.
Ceno (Italy)
Chiusella (Italy)
Chuja (Russia) Majoy gorge, a spectacular big volume class V run. 3 h
Chulcha (Russia) First descent of the upper section. class VI and V run. Hike 4.5 hours to put in
Chulishman (Russia) 3 days river trip. steep creek into volume run
Cinqueta (Espana)
Clear Creek (California)
Codi (Corsica)
Corsaglia (Italy)
Crooked (New Zealand) Class IV V gorge with fun drops. Hard hike in (1.5 h)
Cubatao du Parana (Brasil) Wonderful remote Class V run . Boulder garden and some granite drops.
Diaterna di Caburaccia (Italy) Class III flowing into a remote valley.
Dinkey Creek (California) One of the best 2 days trip in the world. I lost a very good friend in this river.
Dolo (Italy)
Dora Champè-Lago (Italy)
Dora Gole di Avise (Italy)
Dora La Salle (Italy)
Doron di Bozel (Espana)
Drava (Austria) The Dolomitemann race river
Driva (Norway) Classic big river IV-V
East Branch (California)
Egua (Italy)
Eksingedal (Norway)
Enna (Italy)
Esera (Espana)
Etna (Norway) Class IV (VI) river with a spectacular triple drop at the beginning.
Feather Bald Rock (California)
Feather MF (California) 2 days river trip, class IV-V
Finna (Norway) Nice Class IV canyon with some must run
Fiplingdalselva (Norway) Class V run with drops and big holes
Fium Orbo (Corsica)
Futaleufu (Chile)
Fuy (Chile)
Gallego (Espana)
Germanasca (Italy)
Gol Gol (Chile)
Gole dell'Adda (Italy)
Golo (Corsica)
Gordana (Italy)
Gore Creek (Colorado)
Grande Eyvia (Italy)
Guile (France) class IV creek
Guisane (France)
Gyr (France)
Gyronde (France)
Homestake creek (Colorado)
Hommedalen (Norway)
Iapò (Brasil) Long canyon mostly flat with a class V section in the middle and rapids class III and II
Inferninho (Brasil) Slide fun park class IV V
Inn (Austria)
Isel (Austria)
Iser (FR) (France)
Jaguary (Brasil) Steep creek class V run with several waterfall. One of the best in Brasil
Jondachi (Ecuador)
Jorddalselvi (Norway) Class IV - V in a highland valley. Cool 10m drop at the end of the first section. Class V gorge till the bridge.
Jori (Norway) Upper section IV - V Lower section IV
Kaituna (New Zealand) Classic run of the north island. Class IV with 4 waterfalls.
Kakapotahi (New Zealand) Nice upper gorge V and easier lower part IV-III.
Kakapotahi (New Zealand) Heli run. Very hard and beautifull. A gorge with a mandatory run drop is present in the middle of the run.
Karagem (Russia) wild an isolated river in the middle of nowhere class IV
Katun (Russia)
Kawarau (New Zealand) Big volume run with 3 rapids Nevis bluff, Citroen and Retrospect
Kaweah West (California)
Krutaga (Norway)
Kurkure (Russia) Combination of waterfalls and drops. hike to put in
Lagen Canyon (Norway)
Langwasser ()
Lao Pollino (Italy) Wonderful gorge in South Italy, class III-IV
Leo (Italy) class III river
Liamone (Corsica)
Limentra (Italy)
Liocura (Chile)
Loredo (Portugal) Class V step run. The lower section can be done with flooding conditions.
Magra (Italy) Very nice upper part with rapids and many class V drops. Some 4-5m drops and some artificial ones.
Manso (Argentina)
Mar (Norway) Class V run with a special section of 5 waterfalls at the end called homerun
Mastallone (Italy)
Medelsbach (Austria)
Misahualli (Ecuador)
Montone (Italy)
Mouro (Portugal) Class IV run that need a lot of water. The Bonus Section at the end is Class V
Myrkdalselvi (Norway)
Naeroydalen (Norway)
Naeroydalselvi (Norway) Class IV alpin run style. Quite short but different from other rivers. It's cool to finish in the fjord..
Negrone (Italy)
Nera (Italy) Fast and spectacular run after the Marmore Falls. this river has water only during the dam release. Mainly on weekends and summer. Class IV. 10 m3.
Neste d'Aure (France)
Nevado (Chile) incredible steep river committed into a wonderful gorge. class V
Nevis (New Zealand) Beautiful and classic creeking run in south island. Nice class V drops
Noce (Italy)
Noce Bianco (Italy)
Noguera Pallaresa (Espana)
North Fork Payette (USA) Steep and continuous big river. Class VI V
Numedalslågen (Norway) Super fun big volume run in Telemark. I have run at 8 at the bridge gauge and was perfect. Scount the big rapids since there are pretty big holes around!
Oetz (Austria) Big glaciar alpin river. Several stretch to run with different flows. Class III-VI
Ombrone (Italy)
Orba ()
Orbo ()
Orco (Italy) Class V run only running in flooding conditions but really fun when river is high enough.
Osola (Swizerland) Steep class V. Verzasca tributary.
Ospitale (Italy) Class V - IV creek small and steep. Good fun for a multiple run. Nice artificial drop combination at the end.
Oyacachi (Ecuador)
Palguin (Chile)
Panaro (Italy) class II river around my house
Papallacta (Ecuador)
Paraibuna (Brasil) Pool and drop style class IV-V run. The upper part is in a natural reserv.
Pastaza (Ecuador)
Pellice (Italy)
Peneda (Portugal) Starting with an small creek, Peneda is a super Fun run IV - V
Perticara (Italy)
Posuno (Ecuador)
Puesco (Chile) steep boulder creek. Fast moves and high risk of getting stuck into a log. class V
Quijos (Ecuador) class IV volume river
Randalselva (Norway)
Rauma (Norway)
Rauma (Norway) Incredible combination of big water and Slides. The upper Rauma is easier IV, while lower is quite hard VI.
Ravona (Switzerland) Steep alpin torrent with gorges and class V and VI drops. Very typical run up in Tessin
Restonica (Corsica)
Reuss ()
Ribo (Swizerland) Very nice and fun class V creek. This is a Tessin classic with the famous 18m slide.
Rio Bomba (Portugal) Steep small creek
Rio delle Tagliole (Italy)
Rio dos Cedros (Brasil) Continuous boulder garden class IV (V) river. The water change continuously due to the hydro power
Rio Pesce (Brasil) The lower part is a commercial rafting section with some class III and IV.
Rio Preto (Brasil) The upper part is a very, very steep creek. With medium flow of the river is class VI-VII! The lower part is a fun class IV run.
Rio Topo (Ecuador) Wodeful class V creek in the jungle
Rizzanese (Corsica)
Rovigo (Italy) very small creek, class IV tributary of the Santerno.
Saalach (Austria) Nice class V run 2 km long from the town of lofer
Saeta (Norway) 4 class V slides. A possible First descent
Salmon (California)
San Bernardino (Italy) Class V fun run in the Lake Maggiore. Some must run drops but all scoutable and runnible.
San pedro (Chile)
Sanna ()
Santerno (Italy)
Savena (Italy)
Savio (Italy)
Scheggia (Italy) class IV
Schwarzach (Austria) Short section class III (V).
Scoltenna (Italy) class III
Secchiello (Italy) 14 m waterfall run as a first descent in 2006
Senio (Italy) Fun creek with many boof. It flows only with high water and it's good over -100cm on the gauge.
Sermenza (Italy)
Sermenzino (Italy) class IV, nice creek
Sesia (Italy)
Sessera (Italy)
Setta (Italy) terrible class II river
Silisia (Italy) Class V run very deep in a remote valley.
Sjoa (Norway)
Skjerva (Norway)
Skjoli (Norway) Steep creek class IV - V. Good from 1.35 m (gauge online)
Smeddalselvi (Norway) Incredible class V and VI creek in the high mountains in Leardal Valley. many drops and some full on syfons.
Soana (Italy) Wonderful class V long run in the north apls. With gauge over 2.03 m it's very fun till Pont Canavese
Soça (Slovenia)
Sogndalselvi (Norway) Class V run with many drops and slides. A special 3 drops combination of 8-8-8 m drops.
Soraa (Norway) Big mission for a small creek in a remote gorge
Sorba (Italy)
South Fork Payette (USA) Nice big water river with clear and cold water. Class IV
South Silver (California)
Stavvasselva (Norway)
Stordalselvi (Norway) Class V run with many slides and a committing gorge at the beginning
Strandaelvi (Norway) class IV - V river
Stura di Ala (Italy)
Stura di valgrande (Italy)
Styx (New Zealand)
Susna (Norway) Very interesting river with 3 sections of class V with slides and waterfalls.
Tanaro (Italy)
Taravo (Corsica)
Tatare (New Zealand) Glacier flood run close to town.
Taverone (France)
Taverone (Italy) Classic Liguria river. Mostly into little gorges, class IV and fun with high flow.
Tavignano (Corsica)
Teigdalselvi (Norway) class VI river, has the famous double drop at the end of the run
Toaroha (New Zealand) Upper section to hike in with a class V canyon. Also known as T canyon.
Tora (Norway) Very big drops in a short section
Totara (New Zealand) Flooding run IV
Trancura (Chile)
Travo (Corsica)
Trefallselvi (Norway) very short run with a nice 13m waterfall. It's runnible only when Teigdalselvi is too high.
Turnbull (New Zealand) Boulder garden high steepness run. hiked the upper section!
Tverrelvi (Norway) Class IV run with slide in norwegian style. Good warm up run when all the river around are too high.
Ubaye (France) Continuous creek alpin style. from III to V
Ula (Norway)
Urdlandselvi (Norway)
Urula (Norway) Nice class IV (V) run. Good flow from 14m3
Valnontay (Italy) Really steep alpin run.
Vecchio (Corsica)
Veccione (Italy) very small creek, class IV tributary of the Rovigo.
Vefsna (Norway) Classic 4 hours run with big drops and a bit of flat..
Vermegliana (Italy)
Vermenagna (Italy)
Verzasca (Swizerland)
Vez (Portugal)
Vltava (Czech Republic) Nice river. Has water only when the dam release one a year. class IV
Vomano (Italy) Class IV. runnible with special water conditions.
Vorderrhein ()
Vosso (Norway) class II
Wairoa (New Zealand) Dam released run only doable on Sunday. Class IV drops for 30min run.
Weisse Lütschine (Austria)
Whataroa (New Zealand) Heli run. Class V drops into a wonderful class IV gorges.
White Nile (Uganda)
Wooley Creek (California)
Yuba NF (California)
Yuba SF (California)
Zambezi (Zambia)
Categoria: Varie
Ho iniziato ad andare in canoa quando avevo 10 anni. Ho passato l'adolescenza tra i campi di slalom di tutta Europa, allenandomi per far parte della squadra nazionale giovanile. Il duro e costante allenamento, che mi ha portato a partecipare ai campionati mondiali ed europei di canoa slalom junior, mi ha insegnato cosa significa lavorare sodo per un obiettivo e quanto sia meraviglioso raggiungerlo. A 18 anni ho iniziato a studiare Fisica e ho dovuto abbandonare lo slalom in quanto la carriera dell'agonista non era compatibile con lo studio universitario che stavo intraprendendo. Dentro di me però ho sempre sentito fame di sfide e di adrenalina e la canoa estrema mi ha permesso di soddisfarla a pieno: abbandonata la canoa da gara ho iniziato a vivere il fiume in un altro modo, girando il mondo in cerca di fiumi meravigliosi e di passaggi sempre più difficili. Una buona parte dei soldi che riuscivo a guadagnare lavorando d'estate come guida rafting, venivano investiti in meravigliose esperienze.
Ho pagaiato in Africa, nord e sud America e in tutta Europa e ancora mi sento come un bambino che vuole esplorare il mondo. Ora ho trovato il mio equilibrio, una ragazza splendida, una casa in collina e un lavoro da programmatore web che mi permette di liberarmi al bisogno per vivere ancora il fiume e partecipare a competizioni internazionali.
Categoria: Varie
Il progetto di disegno di onde fluviali consiste nella creazione di una base scientifica per la progettazione di onde in canali a superficie libera. L'obiettivo è quello di poter realizzare onde per competizioni di canoa, surf e quant'altro.
Categoria: Varie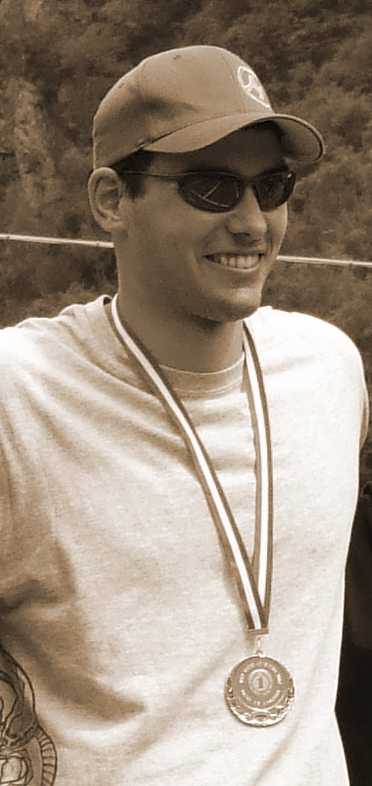 2019
Alpin Sprint - Valsesia River Festival (Trento, ITA) 25/6/19: 1st long race, 1st sprint
North Fork World Championship (Idaho, USA) 14/6/19: 5th place
Ekstreme Sport Veko, European Championship (Voss, NOR) 24/6/19: 8th Sprint, 1st Timberhole enduro
Extreme Slalom Mezzana, Italian Championship (Trento, ITA) 21/7/19: 3rd
2018
Extreme Slalom Mezzana (Trento, ITA) 15/6/18: 2nd BoaterX, 1st Mass start race
Ekstreme Sport Veko (Voss, NOR) 27/6/18: 4th Sprint, 2nd Timberhole enduro
Devils Race (Lipno, CZE) 26/8/18: 4th Freeride sprint, 1st BoaterX, 2nd Dam to Dam marathon, 1st Overall
RedBull Dolomitemann (Lienz, AUT) 8/9/2018: General result kayaking 8th, Amateur 1st.
Marmore race 27/10/2018 (Terni, ITA):1st place sprint
Asahan river festival, Toba Caldera (IND) 8/12/18: 1st sprint, 1st long distance
2017
OutdoorMix (Embrun, FRA) 7/5/17: 2nd Slalom, 4th Freeride, 3rd BoaterX, 2nd Long 3rd OVERALL
Vanoi Rapid race (Caoira, ITA) 21/5/17: 1st Freeride, 1st
King of the Alps (Moso in passirio, ITA) 9/6/17: 3rd Marathon, 1st Freeride, 1st OVERALL
Ekstreme Sport Veko (Voss, NOR) 25/6/17: 3rd Freeride, 2nd Slalom, 3rd BoaterX
Devils Race (Lipno, CZE) 25/8/17: 1st Freeride sprint, 1st BoaterX, 5th Dam to Dam marathon, 1st Overall
Adidas Sickline Extreme World Championship 2017: 6th Freeride
White water world festival, Toba Caldera (IND) 8/12/17: 3rd freeride, 1st slalom, 1st sprint; 1st overall
2016
OutDoorMix (Embrun, FRA) 15/5/16: 2nd BoaterX, 1st Freeride, 4th Slalom, 2nd OVERALL
King of the Alps (Moso in passirio, ITA) 8/6/16: 1st Marathon, 2nd Freeride, 1st OVERALL
Extreme Sport Veko (Voss, NOR) 28/6/16: 1st team race (with Jamie Sutton, Lars Lammlers), 1st BoaterX
Devils Race (Lino, CZ) 19/8/16: Overall
EKEC European Kayaking Extreme CUP (ITA FR CZ) 2016: Overall
RedBull Dolomitemann (Lienz, AUT) 10/9/2016: General result kayaking 10th, Amateur 3rd.
Adidas Sickline Extreme World Championship: 9th Freeride
2015
Marmore River Fest (Terni, ITA) 24/10/15: 2nd Freeride, 1st Freestyle
Extreme Sport Veko (Voss, NOR) 26/6/15: 2nd boaterX
European Championship (Moso in Passiria, ITA) 13/6/15: 4th Sprint
King of the Alps (Moso in Passiria, ITA) 13/6/15: 3rd overall (4th sprint, 2nd marathon)
2014
Extreme Sport Veko (Voss, NOR) 28/6/14: 5th sprint, 1st team race (with Mike Dawson)
European Championship (Moso in Passiria, ITA) 7/6/14: 1st Sprint
King of the Alps (Moso in Passiria, ITA) 7/6/14: 1st overall (1st sprint, 2nd marathon)
Sesia Kayak Meeting (Campertogno, ITA) 1/6/14: 1st BoaterX, 2nd Sprint

2013
Devils Extreme Race, European Open (Loucovice, CZ) 31/8/13:
3rd down-river
Eksteme Sport Veko 28/6/13: 6th downriver,
2nd team (Hjort,Legat,Ramazza)
EAD (Ivrea-Pontboset, ITA) 16/6/13:
2nd overall (3rd downriver, 5th slalom, 1st boaterX)
;
3rd team (Daprà, Ramazza, Longoni)
King of the Alps (Merano, ITA) 8/6/13:
1st overall (1st downriver, 2nd boaterX)
Valsesia Kayak Meeting, 1-2/6/13:
1st downriver
,
1st boaterX
,
1st extreme race (slalom+sprint)
Valsesia River Festival, Sweet Rumble BoaterX 25/5/13:
1st downriver
Valsesia River Festival, Alpin sprint 25/5/13:
1st downriver
1st downriver team race (ramazza, sutton, waldner)
OutdoorMix AWP 10/5/13:
3rd downriver
OutdoorMix 9/5/13:
2nd BoaterX
Marmore Race 24/3/13:
1st downriver
2012
Devils Extreme Race (Loucovice, CZ) 1/9/12:
3rd down-river
Extreme Sport Week:
3rd down-river
, 4th boaterX,
2nd team race
King of the Alps (Merano, ITA) 16/6/12:
1st overall (1st downriver, 2nd boaterX)
King of the Falls (Val Chiusella, ITA) 9/6/12:
2nd downriver
Alpin Sprint, Valsesia River festival 2/6/12:
1st downriver
Marmore Race 25/3/12:
1st downriver
2011
Adidas sick-line world championship (Otztal, Austria) 1/10/11: 8th downriver
Extreme Sport Week:
1st downhill
, 2nd boaterX
Extreme Sport Week (Voss, NOR):
1st Team Race (Ramazza, Brunetti, Sutton)
Teva Extreme Outdoor Games:1st boaterX,
3rd overall
Teva Mountain Games (Vail, CO, USA): 4th place steep Creek
Valsesia River Festival (Sesia, ITA):
2nd Freeride
, 2nd BoaterX
2010
Adidas sick-line world championship (Otztal, Austria) 2/10/10:
2nd downriver
EkstremeSportVeko (Voss, NOR):
1st Team Race (Ramazza, Brunetti, Waldner)
Valsesia River Contest (Sesia, ITA): 1st BoaterX
Teva Extreme Outdoor Games: 9th overall
2009
Italian Cup (Tegliamento, ITA): 6th downriver
Teva extreme outdoor games: 2nd downriver, 2nd sprint, 4th boaterX, 9th overall
Extreme sport week:
1st downriver
Adidas sick-line world championship (Otztal, Austria) 4/10/09: 8th downriver
Italian Cup (Nera, ITA) 31/10/09:
1st place
2008
Teva extreme outdoor games (Rassa, ITA): 2nd place overall, 1st team race, (4st downriver, 2nd sprint, 2nd slalom, 8th boaterX)
Straight Down Striit (Elm, SWI) 24/5/07: 2nd place
Teva mountain games (vail CO, USA): 7th place steepcreek, 4th downriver, 1st divtimate mountain challenge (pro team division)
Extreme sport week (Voss, Norway) 28/6/08: 2nd downriver, 3rd team race, 4th boaterX
Sweet Rumble (sjoa, Norway) 19/7/08: 1st boaterX
Teva cup (dutch water dream, Holland) 23/9/2008: 1st boaterX
Adidas sick-line world championship (Otztal, Austria) 4/10/08: 3rd downriver
Italian Cup (Nera, ITA) 26/10/08: 1st place
2007
Teva extreme outdoor games (Rassa, ITA): 6th place overall, 1st team race, (1st downriver, 2nd sprint, 17st boaterX)
Italian Cup (Vanoi, ITA) 20/5/07: 2nd place 1st team race
Soca River Race (Bovec, SLO): 2nd place
Italian Cup (Sermenza, ITA) 2-3/6/07: 1st place boaterX, 2nd place sprint, 3rd team race
Italian Cup (Ayasse, ITA) 17/6/07: 1st place
Nissan outdoor games by Columbia (Interlaken, SUI) 1/7/07: 5th place overall (3rd slalom), 2st team race
Italian Cup (Aurino, ITA) 7/7/07: 1st place, 3rd boaterX
Italian Cup (Grande Eyvia, ITA) 2/9/07: 1st place
Italian Cup (Nera, ITA) 27/10/07: 1st place
Italian Cup final resdivt: 1st place
2006
Teva extreme outdoor games (Rassa,ITA): 2nd place overall, 1st team race, (2nd downriver, 7th sprint, 2nd slalom, 1st boaterX)
Wave and Wheel (Brentgarden, SUI): 4th boater X
Powerade Outdoor Games (Interlaken, SUI): 1st boaterX
Sweet Rumble (Sjoa,NOR): 4th boaterX
7down: 1st place
Italian Cup 1st place
Italian Cup (Sermenza, ITA) 21/5/06: 1st place, 2nd team race
Italian Cup (Vanoi, ITA) 4/6/06: 1st place 5th team race
Italian Cup (Grande Eyvia, ITA): 1st place
Italian Cup (Nera,ITA) 29/10/06: 2nd place 1st team race