Are you looking for a good protection for your body for extreme kayaking? Do you need something easy to wear and optimal mobility? I never found anything like this in the past, but now I've tried this Xion product and I finally found a body suit very performing.
The Xion Longsleeve Jacket is a good product for kayaker. I tried a lot of other protection before but I have to say this one is the first I would wear all the time I go kayaking in steep white water.
There are several advantages: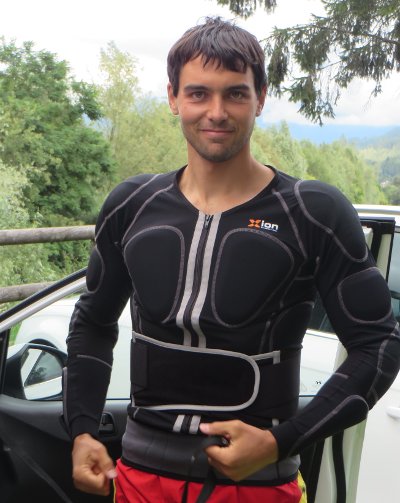 - you can take off all the non necessary protection (for example I remove the back shield since the life jacket does the job)
- the movements result really free, of course not like you don't have anything, but the impact is very small. The padding shields are very flexible and the fabric is elastic.
- the protection is more than enough for the impact in the rivers. Moreover there is a back belt useful for boat carrying and lower back protection.
- you can wear it under a dry-suit with no extra thermal layers and it's possible to kayaking up to 15°C air temperature in cold water. 
- you don't need extra elbow pads.
- you can use it also for downhill biking and street fighting :-)
- drys quickly
Disadvantages:
- the weight of the suit is relevant but after you wear it, you don't really feel it. Of course you might not want to use for multi-days trips when you are not keen to carry extra weight.
- the elbow protection are not as protective as the plastic padded ones especially for your dry jacket. However are much more comfortable. 
That's pretty much all, no wait...
the customer service is very efficient and they very good in guessing size!