What equipment to buy? What are the safety rules for not risking? Where and when can I go kayaking to the sea?
These are just some of the questions that anyone who wants to start canoeing at the sea asks before venturing into a sea kayak. In this short guide I will try to give some useful tips to start this activity.
Equipment and kayaks
First you need to choose a kayak to buy (or rent). Obviously, the purchase allows you to practice at any time without being tied to the opening of a business.
If you do not have a lot of experience in kayaking (and you do not know what model you want), my advice is to buy a kayak sit on top, or unsinkable, on which you can go back even after a roll in the middle of the sea (feature important for security reasons). Also many inflatable canoes do not sink but they bring with them many disadvantages of maintenance and performance and the only advantage of the space for stowage.
This below (Wave Sport scooter), is a very simple model to use, very safe and that allows you to fish, turn to the sea near the coast with calm sea and surf on small waves near the beach. The model is not too cumbersome and is practically indestructible and long-lasting over time (even easy to sell). There are many similar models on the market and they all go more or less well.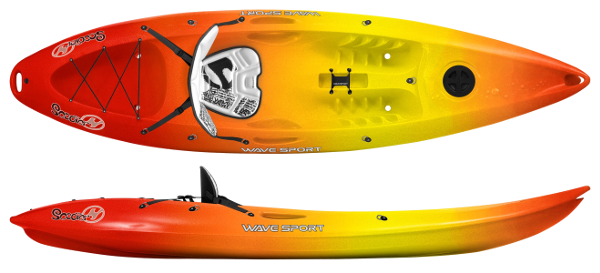 These models exist in a double and a single version, so please consider if you want to go alone or with your partner.
Paddle
The paddle choice is very free and depends a lot on your wallet. The best blades for the sea are lightweight and made of carbon fiber or fiberglass. Here are some of the best sea paddle models . However, even cheaper paddles are good if you are willing to have an heavier tool in your hands. However, look for long and narrow paddles with a 45° angle (the inclination of one blade with respect to the other) and 200cm long if you are under 170cm tall at 210cm if you are taller.
The clothing depends a lot on the temperature:
Summer clothes
If you plan to go canoeing in the summer, then a lifebuoy will suffice. (something cheap is also good) and a costume if you think it's appropriate :-), and lots of sunscreen.
Winter clothing
If you want to go with colder temperatures, I suggest you wear a pair of pants and a dry jacket with a underlayer for the part higher, more or less heavy depending on the temperature. Obviously always a lifebuoy over the jacket. By clicking on the relative links you can see an example of the recommended material (if you buy it online you can have a discount by entering the code MRKPROMO ). With the recommended equipment it is possible to paddle up to 4° -8° C at sea without wind.
What is safe to do at sea?
The sea can obviously be very dangerous if not treated with the right respect. However, the canoe can be made safe even by those who have little experience as long as they comply with some logical rules of behavior:
do not go out if there is wind or an increase in wind is expected (going against the wind can be almost impossible at times or very tiring)
do not go out with the rough sea or with a predicted wave increase
always stay close to the coast (an overturn away from the shore can be potentially lethal).
dressing with equipment suitable for air and water temperature and wear a life jacket.
We must always think that it is possible, even if rare, to fall into the water. Falling into the water a few meters from the shore at sea in August is fun, while 50m far from the coast in February is anything but fun and very dangerous. Obviously being in more people is always a guarantee of greater security.
What things are useful to keep in mind
a minimum of technical preparation is useful for not tiring shoulders and back. You can find the Technique section where you can find tips with video lessons or useful articles.
it is always possible to overturn and you have to consider you have the swimming skills to go back to shore swimming.
I advise you to try the beach to fall into the water and climb up your canoe, so that if it happens you know if you are able and you can count on this maneuver.
the sun is very strong on the canoe and often the breeze and the splashes of water make you forget that you are burning like baked peppers.
avoid paddles without angle of the blades, often rentals tend to offer them because they are easier to use immediately, but after 3 hours of paddling a tendonitis is ensured due to the movements of the wrist.
remember that swimming while trying to drag the canoe and paddle is a very difficult undertaking, so do not hesitate in emergency situations to leave the equipment and swim on shore alone.
have fun and discover new beaches!
I hope this guide has been helpful and if you want to return the favor, please follow my Facebook page !