What is going to happen to the Teva Extreme Outdoor Games this year?
The race has a different name now: Eporedia Active Days. Everything is going to be like last year apart few things..
This year the race is only partially sponsored by Teva but the organizers managed to find money from other sources to make the race happen. This year the race is open, so no invitation is required. The race is going to be even harder because more paddlers are expected.
A good news for the international paddlers: no race on Sunday, so you can get wasted at the party and you don't have to race the day after!
Everything is going to happen in the same style of the past years: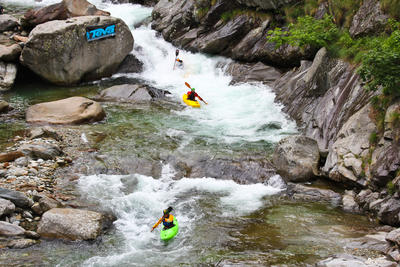 June 7th:
10:00 Individual Race Long distance – Valchiusella
Long race in Valchiusella
15:00 Team Race Long Distance - Valchiusella
Long race by national Teams
June 8th:
11:00 King of the Falls - Valchiusella
Spectacular short race in a very hard course (only the best 25 kayakers will compete here)
21:00 Individual Race Sprint - Ivrea
Fast run down the slalom course in Ivrea
June 9th:
10:00 Team Race Sprint - Ivrea
Sprint in the slalom course in Ivrea
14:00 Kayak Cross – Ivrea
The last race of the Games, for the best 32 paddlers qualified
21:00 Party – Ivrea
June 10th:
10:00 ITALIAN CHAMPIONSHIP KAYAK CROSS
Kayak cross only for italian paddlers
For more informations contact Francesco Salvato: This email address is being protected from spambots. You need JavaScript enabled to view it.
Eporedia Active days Website