Here is the live report, step by step, of the White Water Grand Prix adventure seen from the eyes of Michele Ramazza.
Interview and Michele footage's
Chronicle
Day -3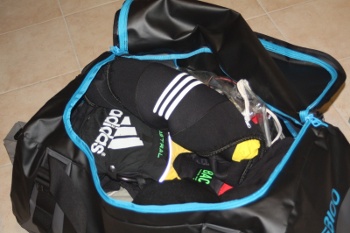 Everything is packed for the flight. I should find a kayak there and that is going to be the first mission.
My flight is on 28th at 12.20 to Madrid, then Santiago, then Temuco. From Temuco everybody should move to Entre lagos for the first stage: Gol Gol long race. I'm sure I'm going to miss my lady and my home.
Day -1
Here I am in Temuco! The flight has been long but all good, I received my baggage and paddle!
Weather is a bit cloudy now, but still 20 degrees. Tonight I'm gonna rest here and tomorrow will meet some of the guys to move to Entre Lagos.
Day 2
After two days of training I start feeling better on the race course of tomorrow: long distance on the Rìo Gol Gol. It is more or less 6 minutes of pretty hard whitewater, with some technical rapids and some drops till 9/10 meters high. It's been raining all day and the water level has grown up, but tonight shouldn't go on and most likely tomorrow the race course will be good!
Day 3 - Stage 1
The rain raised up the water again and the race flow is higher than ever. The course is good to go and the race has been very interesting. In the first run I got stucked in a hole and I lost about 10 sec. The second run has been better but still not perfect.
Day 6 - Stage 2
We moved to Pucon, one of the kayaking Mecca here in Chile. For the second stage we decided to run the Puesco, a very steep river with fast rapids. This river is similar to the one I found in Europe and I'm really used to this kind of stretches. In fact I have done the 2nd best time of the race course!
Day 8 - Stage 3
We decided to do the 3rd race in a different type of river, less water and bigger drops, the wonderful Nevado. This river is amazing and running it is a pleasure, especially with the sun we had in the last 2 days. After every run you have to complete the all descent because there is no way out of the gourge. The 3rd race was a 1.30 min sprint with a major slide and one big waterfall with 2 technical rapids in between.
Day 12 - Stage 4
After the races in Pucon we moved to Futaleufu, a huge river far south in Patagonia. The kayaking style here is completely different, big waves everywhere crashing on you on random moment and whirpool that could spin you in every eddyline. The Stage 4 has been a boaterX in a big rapid called Mas o Meno. Very fun and scary race!
Day 14 - Stage 5
Enduro mass start race, very fun and hard race.
WhiteWaterGrandPrix website
Overall final result men
1st Place: Dane Jackson (USA)
2nd Place: Eric Deguil (FRA)
3rd Place: Evan Garcia (USA)
4th Place: Isaac Levinson (USA)
5th Place: Todd Wells (USA)
6th Place: Michele Ramazza (ITA)
7th Place: Joel Kowalski (CAN)
8th Place: Lorenzo Andrade Astorga (CHL)
9th Place: Galen Volckhausen (USA)
10th Place: Jakub Nemec (CZE)