On Friday October 1st and Saturday October 2nd the Freeride world championship took place in Oetz. Michele Ramazza 2nd place!
For the fourth consecutive time the adidas Sickline Extreme Kayak World Championship took place in Austria's beautiful Ötztal valley. 150 of the world's best whitewater kayakers from twenty-six different countries had travelled to the Tyrol region in order to compete for world championship honours on the legendary Wellerbrücke rapids, one of the most difficult whitewater sections on the planet.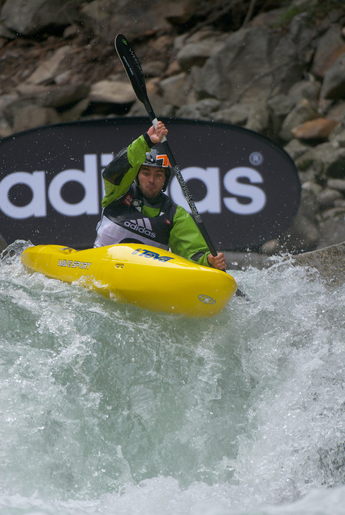 In contrast to the previous year, the Superfinal of the 2010 adidas Sickline Worlds wasn't as tight, but still full of thrill and emotion. 22-year old Sam Sutton from New Zealand claimed the title with a comfortable gap of 2.14 seconds to Michele Ramazza from Italy who claimed silver (1:00.99). Third on the podium was Lukas Kalkbrenner from Germany (1:01.13).
With an incredible time of 58.85 seconds, adidas Sickline team athlete Sam Sutton was the only one in the Superfinal of the TOP 15 to break the one-minute-barrier. New Zealand's Mike Dawson and the 2008 adidas Sickline world champion, Thilo Schmitt, also had perfect runs under one minute in the semi final, but couldn't repeat their performance for the last deciding race.
The day had started off with 48 finalists. After two knock-out rounds with head-to-head heats the Superfinal line up of 15 was indeed the best of the best. In a field of this kind, no one could afford to make even the slightest mistake.
First to launch in the Superfinals was "Lucky Loser" Basti Lexa. With a time of 1:08,47 he was the first to sit down in the Softub Whirlpool with Miss Tirol 2009, Christina Keil. His time was only beaten three runs later by "Lucky Loser" Paul Bökelmann from Germany (1:07.73), who himself was banished from the whirlpool only one run later by Italy's Michele Ramazza, who occupied the hot seat until Sam Sutton was able to nail the perfect "Sickline". Ramazza crossed the finish line with a new best time of 1:00.99 and it seemed as if he could hang on to a spot on the podium.
Dejan Kralj, one of the most experienced kayakers and the fastest paddler in the qualification, started right after Ramazza. He had finished twice in 4th place at the adidas Sickline worlds and this year he hoped to finally claim a spot on the podium. Even though Kralj had a solid run, at the last drop he got carried out into the eddy and lost valuable seconds. "It's very difficult to get on the podium, if you do just the slightest mistake like I did today. If I'm lucky and have no injuries next year I hope to be back fighting for gold at the adidas Sickline 2011."
Launching right after the Slovenian was Frenchman Eric Deguil, optimistic to snatch the golden champion's belt. With a time of 1:06.79 his first reaction was "I'm happy with my run, I think I did a good job especially at the first part – but in the end my time just wasn't good enough. Maybe it will be better next year."
Top contender Sam Sutton followed next, looking confident after his fast runs in the previous round. It almost seemed as if he was taking it easy as he was flying downstream with a nice clean approach. "I was extremely lucky with my final run, I told myself that if I could do it without making any mistakes it would probably be good enough for the podium; I relaxed and finally had a smooth and nearly perfect ride so I couldn't ask for more." As he jumped into the hot tub with Miss Tirol 2009 Christina Keil, enjoying his Red Bull he said: "It feels very good to be here in the hot tub with Miss Tirol, as well as finally being able not to do mistakes on every run. I realized that I had been very fast when I first saw my time, it was probably one of my best runs ever so it felt very sweet."
Despite reaching the final and finishing 12th overall, adidas athlete Gerd Serrasolses from Spain was not happy with his final run. He lost valuable time at the crux of the racecourse, rolling and being dragged along the final drop upside down. "I felt quite some pressure since I wanted to improve my 4th place from semi finals. I had a good line in the beginning, but at the end I screwed up pretty hard and there was nothing I could do."
As one the most constant paddlers of the day finishing 3rd in the semi finals and finals, slalom specialist Lukas Kalkbrenner enjoyed sitting in the hot tub with Sutton and Ramazza celebrating his achievements. "I'm very happy because I didn't expect this result. My goal was just to get into the superfinal and for me it's awesome to sit here in the hot tub with Sam and Michele - it's by far my best whitewater result ever. For sure I'll be back next year, it's such a great event."
Next on the launch pad was hot race favourite Thilo Schmitt. Fully concentrated he could be found making imaginary paddle strokes whilst visualising his run and waiting to start. "I was extremely nervous before my run. It was so hard to wait for my turn watching all the other guys achieving great times. I tried my best, but I screwed up at the champions killer." His finishing time of 1.01.78 was fast, but not fast enough. With 65 hundreds of a second down to Lukas Kalkbrenner he placed fourth.
The drama unfolded when the fastest paddler in the semi final and the hottest favourite of all, Mike Dawson (24) from New Zealand, struggled hard to reach the finish line. Halfway through the course as Dawson entered the turbulent core section he rolled and was dragged down backwards, sideways and upside down for several seconds. Not being able to get back into the current fast enough missing the perfect line again, the light beam caught him at 1:11.39, which put him on 13th place. Clearly disappointed Dawson drifted downstream.
Fellow countryman Sam Sutton on the other hand had every reason to party. With the gold medal around his neck and the highly sought-after championship belt in his hand he said: "It has been an awesome year and of course I am glad to finish the season becoming World Champion. It´s a dream come true; ever since I have been kayaking it has been my main goal."
And runner-up Michele Ramazza concluded: "I already had the bronze in 2008, and this year I claimed silver. For me it is like taking another step, getting closer and closer to the top of the podium. Next year I go for the gold if the "kiwi" lets me. I really like this race because it's physically hard and at the same time it requires good skills. It's also very competitive as you can race against all the best kayakers from all over the world - we really enjoy meeting up like this."
Replay: