This 2013 season is officially started. The schedule is full of big events, some of them new and others classic not to be missed. After the first race in Italy on the Nera river I feel very excited to see how I'll go with the new toy Recon 83. The feelings are good, easy to drive and very aggressive in hard water and drops.
I'm looking forward to the new challenge of learning how to use a new boat after 6 years of Habitat. My goal for the upcoming season is to learn how to use the kayak and push it even further in terms of speed and precision.
I also feel very luck to be supported by Adidas, which is providing me all the outdoor gear, Wavesport for the kayaks and Werner for the paddles. I'm going to post on my website as much photos, videos and report I can, so don't forget to like the facebook page to be updated of all news!.
List of 2013 Kayak Events
Marmore Race (Terni, ITA)
Valsesia Film festival with the film "WWGP, the great challange"
Exo race in Valsesia
King of the alps (Meran, ITA)
Kayak clinics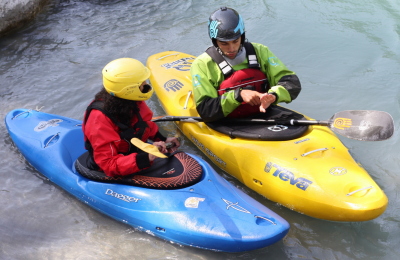 Beside these events I'm going to organize a one week kayak course in Durance at the beginning of August for II and III level kayakers. Moreover I'm planning another course for class IV boaters in Val di Sole at middle of July. The Val di Sole is one of the place I love to spend some holidays and training during the summer.
Happy ending
The season 2013 is also going to end with a very important event for myself: I'm going to get married on September 22nd!
Giulia and I will be wife and husband! What could I ask more from life?