At the beginning of November 2014 one of the most generous man in the kayak world, lost his life after a long swim in one hole of the Marsyangdi River (Nepal). He was known as Gianni Slalom.
Gianni and two other Italian kayakers were in a 2 weeks trip in Nepal and they posted some very nice pictures from the upper Bothe Kosi. Suddently a sad news shocked all of us.
The dynamic of the accident it's not very clear at the moment but, from the news collected from several sources, looks like Gianni ended up in a big hole with his kayak.
He fought for long time and when he swam, already without energy, he got recirculated in the hole loosing all the left oxygen. He died a bit later in the Lamjung Community Hospital.
Fighting with a big hole could let the kayaker loose all the energy very quickly. A long swim in the river could be fatal especially in rivers with big volume of water.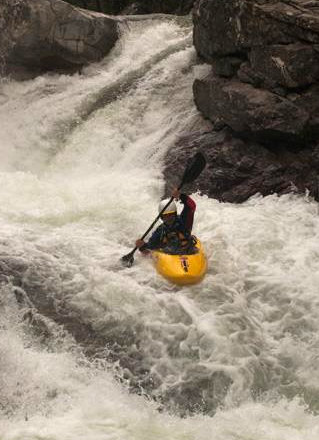 I personally don't think we should judge what happened, but learn from it. Gianni was one of the most incredible person I have ever met, always ready to help anybody.
I can remember one episode of this summer in the Gronda (val Sesia, Piemonte) when he saw our group running the river and he decided to follow us running on the shore for the whole descent. He made some extra safety for us fighting with the bush to secure a good spot after every main drop. Gianni was also following several activities with kids in his local kayak club transmitting his passion to the new generations.
He left us a big empty space in the heart of the friends and family. This kind of things should simply never happen.
All the kayakers should learn rivers deserve respect and we cannot play with our life. A lot of people care about us, like all of us will care forever about Gianni.
No more words, rest in peace Gianni Slalom.